Events since last update on 10 February 2015
(link)
Memstar Technology Ltd announced on 6 March 2015 that it had entered into a 2nd supplemental agreement to extend fulfillment of key conditions precedent, that were supposed to have first been fulfilled by 31 January 2015 and then by 28 February 2015, to 31 March 2015. These conditions include Longmen Group Ltd (or "Target") successfully completing Tranche 2 Fundraising of US$15 million and the Target entering into an off-take agreement with Petro China and/or CNPC for the purchase of the Target's coal bed methane.
Memstar also announced that it had successfully obtained a 6-months extension of time to meet the requirements for a new listing, i.e. from 11 April 2015 to 11 October 2015. The extension is, however, subject to the following conditions:
The submission to SGX of the Proposed RTO application of Longmen by 30 April 2015; and
Memstar providing quarterly updates of key milestones, via SGXNET, on its progress in completing the Proposed RTO by September 2015.
Our Views
The conditional extension granted by SGX effectively means that the latest extension of time by Memstar for Longmen to fulfill the conditions precedent may well be the final one. Should Longmen fail to meet these conditions precedent by 31 March 2015, Memstar is unlikely to be able to meet the conditions set by SGX to extend its own listing status to 11 October 2015.
Such a scenario would pose a major setback to existing shareholders as we have previously warned. Recall our estimates that the Company only has an NTA backing of S$0.003. In the event that it is forced to delist, shareholders would probably not be able to monetise their shares for much more than this amount.
As we have also highlighted previously, the valuation of Longmen appears rich compared to that of its larger LSE-listed competitor, Green Dragon Gas Ltd. The most ideal scenario for Memstar shareholders would therefore be for a cut-price deal to be negotiated and consummated with Longmen. However, given the dire circumstances, a deal based on the
current price is still better than none for shareholders. Indeed, Memstar may well choose to waive the existing conditions precedent just to push the deal through.
Share price of Memstar is $0.015 as per close of market on 17 March 2015, down 25% from $0.020 from our first report issued on 21 January 2015 warning investors that the price then was unjustified. (See chart below)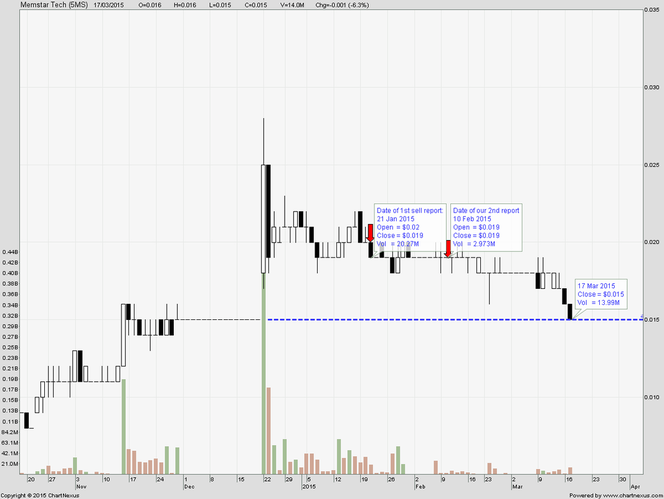 Recommendations

Even though the share price has declined to $0.015, where it was at before the RTO announcement, we would still caution investors to stay away given the uncertainties surrounding the deal and Memstar's own listing status. We do not discount any positive news or developments from the RTO giving a temporary boost to Memstar's share price. However, any potential gain has to be weighed against a likely loss of 80% in value (share price of S$0.015 vs S$0.003 NTA backing) should the deal fall through.