Not too many things have been going right for Yongnam Holdings Ltd ("Yongnam") over the past few years with seemingly one bad news after another.

For instance, it announced on 31 May 17 that it had recorded 3 consecutive years of losses and only avoided being placed on SGX's watchlist by virtue of its larger than $40 million market capitalisation.
​
This follows a dismal showing in the last full financial year of 2016 when it recorded a whopping loss of $31.6 million, matching its largest since listing in 1999, and a far cry from its heydays of FY2009 to FY2012 when it was generating more than $40 million in net profits in each of those 4 years. Its future prospects also look challenging as its order book dwindled to $218 million as at 31 March 17, just slightly more than half what it was at the end of 2014.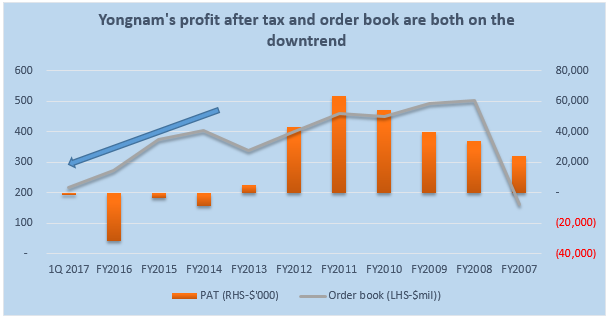 Even an attempt to raise funds amounting to $33 million via a rights issue in 2016 was met with poor response. Despite the rights being priced at a significant discount to Yongnam's closing share price just prior to the rights issue announcement, its own shareholders only took up 36% of their rights entitlement. The fund raising was eventually saved by the 33% excess rights application (including 23% by its CEO Seow Soon Yong as per undertaking) with its underwriter CIMB picking up the rest.
​
Not surprisingly, its share price has been battered. At the last close of $0.235, it is trading close to a level last reached in the 2008-2009 global financial crisis and at about a 63% discount to its NTA backing.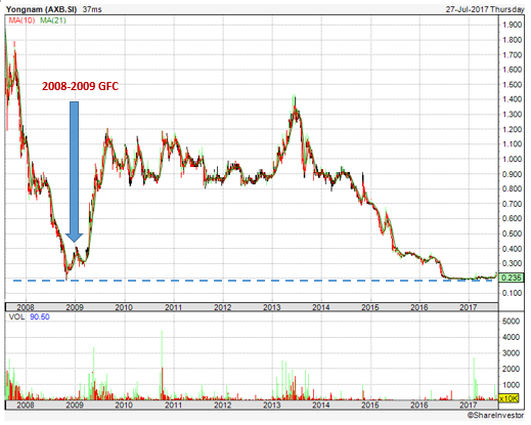 New Substantial Shareholder emerging
Despite the ongoing challenges, Yongnam has curiously managed to attract a new substantial shareholder, Mohamed Abdul Jaleel, in recent months. Mr Jaleel's initial substantial interest appears to have been a result of CEO Seow's post-rights issue put and call arrangement with CIMB to acquire the underwriter's 49.4 million shares at the then rights issue price of $0.21 per share. Of these, 23.5 million share options were still outstanding until early February when Mr Jaleel coincidentally filed with SGX an increase of his holdings by the same number of shares acquired at $0.21 each. He subsequently made 2 other off-market purchases, raising his holdings to 36.5 million shares for a 7.7% stake.
Mr Jaleel, who has been covered in the past by various newspapers for his philanthropic deeds, runs privately owned MES Group. MES Group reportedly had a turnover of more than $100 million in 2013 and according to its website, is in both the property (accommodation and facilities management) and logistics businesses. On a less glamorous note, the group had also previously been found guilty of
tax evasion
in 2010.
While we do not want to speculate on what Mr Jaleel sees in Yongnam to invest more than $7.5 million to buy its shares in less than 6 months, his entry and future movement is worth keeping tabs on.
Possible beneficiary of mega-infrastructure projects?
The Singapore government is expected to be awarding several mega public sector infrastructure projects in the coming months as part of the $20 to 24 million public sector construction demand projected by BCA. These include major contracts for Deep Tunnel Sewerage System (DTSS) Phase 2, North South Corridor and MRT Circle Line 6.
It is unclear how many of these tenders Yongnam has participated in although it indicated in its Q1 results announcement that it is currently in pursuit of $1.1 billion worth of projects.
​
One major contract of interest is for the Construction of Kim Chuan Depot Extension for Circle Line 6. According to LTA's tender information webpage, tender for the project has closed and bids from various participants have already been made available. Intriguingly, it appears that a joint venture (JV) between Daewoo E&C and Yongnam has submitted the lowest bid of $1.18 billion, just 2.5% lower than Woh Hup's next higher bid. Daewoo E&C, a contractor ranked in the top 40 globally according to US based
ENR
, is no stranger to the Singapore construction scene and has previously won another LTA contract for the construction of Stevens MRT Station on the Thomson Line for $441 million.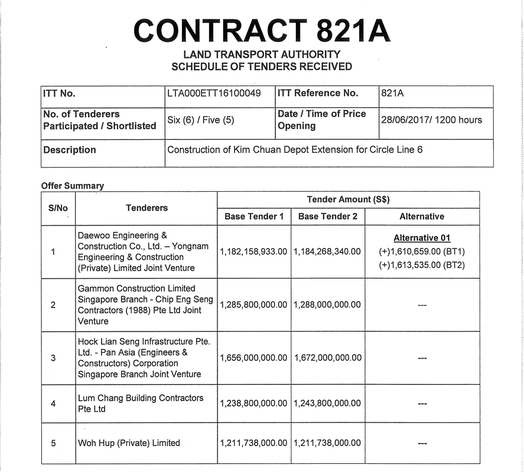 (Important note: The above is a screenshot of the actual document that is publicly available on LTA's tender information page as at date of writing)
We note though that the contract has yet to be awarded and details of the bids are not publicly available. There is also
no certainty
that the lowest bidder will be the winner with other factors such as quality and safety surely being considered, so it may be too early for Yongnam's shareholders to pop their champagne. Still, if the Yongnam JV does indeed end up winning the contract and assuming Yongnam's portion is at least 20-30% of the total contract value, this could represent its single biggest contract win to date and potentially more than double its existing order book.
It would also provide some consolation for the other mega contract -construction of the East Coast Integrated Depot- that it missed out on in 2016. On that occasion, Yongnam's JV with Penta-Ocean Construction Company was pipped by Korean giant GS Engineering & Construction Corporation who put in a bid of $1.99 billion vs the $2.07 billion put in by the JV. Incidentally, like Daewoo, GS and Penta Ocean are all ranked among the top 100 global contractors, perhaps an indication of the intense level of competition these mega infrastructure projects generate.
Conclusion
​
It may be too early to say for sure that Yongnam's fortunes are set for an upturn. Nonetheless, the recent entry of businessman and philanthropist Mohamed Abdul Jaleel as a new substantial shareholder and the results of the tender for mega infrastructure projects such as the aforementioned Kim Chuan Depot construction contract are key events shareholders should closely monitor. In particular, should the Yongnam JV succeed in the Kim Chuan Depot tender, it could lead to a re-rating of Yongnam's share price, which surely would be a welcome break for long-suffering Yongnam shareholders.