Since our
initial write-up
on TSH, the share price has surged, returning a total of 86% in less than 2 months. Our initial estimates pegged the value of the shares to the sum of its existing net cash and short-term securities position of S$0.077 rising to S$0.139 (S$0.0107 and S$0.169 respectively before adjusting for the 3 S cts dividend it had earlier paid) should the freehold property be successfully disposed. Recent developments, however, suggest that our views have been too conservative.
We now see a strong likelihood of the company monetizing all its assets and distributing the resultant proceeds in the mid to near future. Shareholders should realize total proceeds of at least S$0.151 per share should that happen. This represents a further 29% upside from the last traded price of S$0.117. We remain long at the current price.
Key developments since our report
TSH announced on 28 April 2016 following its AGM that it had entered into a sale and purchase agreement with Exact Solution Management Ltd to dispose of its Consumer Electronics business carried out under its wholly owned subsidiary, Wow Technologies (Singapore) Pte Ltd. The consideration is US$2.4 million or S$3.24 million. It intends to distribute 100% of the net proceeds from this sale to shareholders.
Concurrently, the Company has entered into a non-binding term sheet with its CEO, Anthony Lye, for the disposal of its Homeland Security Services business, consisting of its wholly owned subsidiary, Starmo International Ltd as well as subsidiaries under Starmo. The consideration shall be in cash and is to be agreed by the Company and Anthony subject to a valuation report to be prepared and issued by an independent valuer.

Company revealed in its annual report for FY 2015 in regard to its 26.5% stake in Unilink Development Limited that "Following the plan of the Company in 2015 to dispose of the investment in Unilink, the Company has followed up with a concrete plan to locate buyer and is of the view that the sale is highly probable to be completed within a year." Consequently, the value of the Unilink stake has been written down to S$3.127 million as an estimated recoverable amount based on discussions with third parties.

Our Take
Twin disposal of Consumer Electronic Business and Homeland Security Business leaves TSH with no core businesses and removes key cash drain risk
Coupled with the company's decision not to actively pursue any property development projects after the disposal of its Australian properties, TSH is set to become a cash company upon the completion of the twin disposals of Wow Technologies and Starmo.
We previously flagged out the consumer electronics business, which incurred a loss of S$2.73 million in 2015, as the prime risk to TSH's cash pile. Thus, we see its proposed disposal as positive news for shareholders even though the consideration of S$3.24 million would result in a non-cash disposal loss of S$0.37 million. The resulting cash distribution from this sale is estimated to be 1.3 S cts per share, representing 11% of the last traded price of S$0.117.
At the same time, we think the disposal of its Homeland Security Business, Starmo, should generate proceeds no less than the net carrying value of its tangible assets given that this division has consistently generated profits, albeit declining, over the last 3 financial years.
However, net realisable value of Unilink stake may be lower than book value
Although the Company has estimated that the recoverable value of the 26.5% stake in Unilink to be S$3.13 million, we note that Malaysia-listed Metronic Global Bhd recently disposed of a 17.7% stake in the same company for just US$551,724. Should the sale of TSH's stake in Unilink be transacted at a similar valuation, the consideration it eventually receives may be closer to S$1.15 million (
US$:S$=1.380
), representing an S$1.98 million deficit over its current book value.
Net Breakup Value is likely to become key share price driver going forward
With the latest announcements, we think that TSH will eventually dispose of all its key assets and businesses and return the proceeds to shareholders. As such, the focus for shareholders should shift towards TSH's net breakup value as its assets will eventually be converted into cash.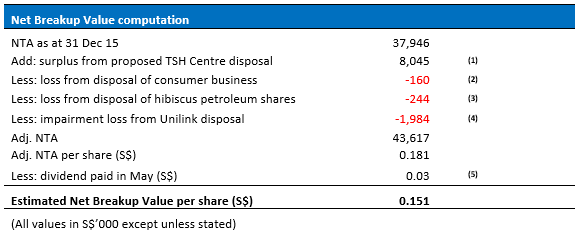 Recommendation

Even though the share price of TSH has surged since our initial report, recent developments suggest that more upside may be installed for its shareholders. The pace of the disposals and distributions would likely drive share price going forward. Nevertheless, shareholders should eventually realise no less than our conservative estimate of TSH's net breakup value of S$0.151 per share, representing an upside of 29% over the last traded price of S$0.117.

Further upside could come either in the form of a higher selling price of TSH Centre, Starmo or the stake in Unilink as we have assumed undemanding considerations for each of these assets. As an example, should TSH sell its property at say 909 psf which is the current lowest asking price of comparable properties in the vicinity, the net breakup value could rise to S$0.169 or 44% above the current share price.

We continue to be buyers at this price.