Baker Technology Ltd- 5 things you may not know about


In our Centre Stage series, we will take a closer look at the respective companies featured and attempt to cast an illuminating light on some of their lesser known facts that we feel have been overlooked by investors.

The second company to be featured on Centre Stage is none other than SGX listed Baker Technology Ltd ("Baker Tech"). Baker Tech is a low profile company in the oil and gas services space, conservatively managed by an industry veteran.

1. Baker Tech was originally in the truck and trailer axle business

Baker Tech was originally listed on the former SGX SESDAQ as York Pacific Holdings in 1994 and renamed Wassall Asia Pacific in 1996 after it was acquired by then UK listed Wassall PLC. At that time, its core business was in the manufacture and distribution of truck and trailer axles. Baker Tech kept this core business until 2007 when it disposed of 51% of York Transport to the Indian conglomerate, Tata group, with the remaining 49% sold to the same party in 2012. Since then, Baker Tech has operated in the oil and gas services space primarily through its subsidiary, Sea Deep Shipyard, a specialist in the fabrication of offshore jack-up rig components.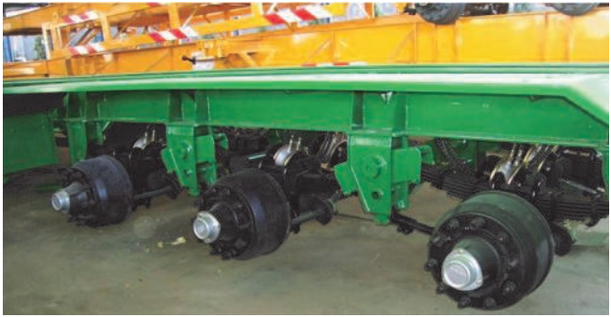 An example of a York trailer axle that Baker Tech used to sell (Source: York)

2. Its controlling shareholder is a rig building pioneer

Dr Benety Chang, who together with his wife owns 51.6% of Baker Tech's total outstanding shares, was formerly from Promet Pte Ltd (now known as PPL Shipyard). Promet, then controlled by his elder brother Brian Chang, was already one of the largest rig-builders around from the 1970s to mid-1980s, when high oil prices sparked a boom in global rig building. There were in fact 5 shipyards in Singapore alone capable of building rigs during that period, with Promet and Keppel's Far East Livingston (now KFELs) being the most prolific [1].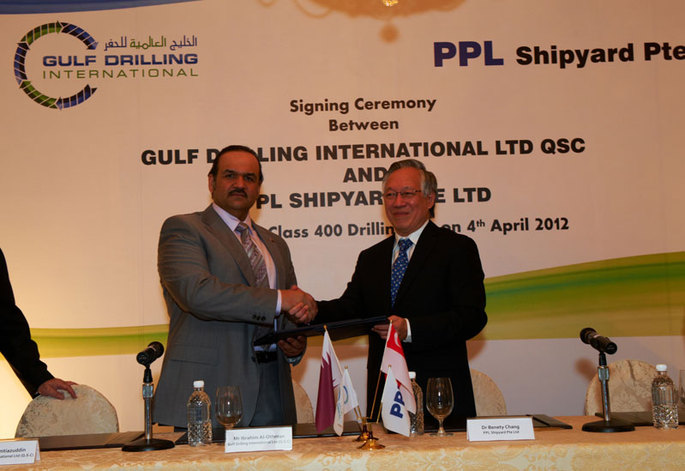 Dr Benety Chang (right) at a PPL contract signing ceremony (Source: GDI)

Unfortunately, the oil bubble burst in 1985 and Promet, like many other rig builders, ran into financial difficulties. Promet survived the ensuing debt restructuring in the following years and eventually acquired Baker Marine and its jack-up rig designs in 1995. In early 1998, the rig building business was transferred to newly incorporated PPL Shipyard, an entity majority controlled by Benety Chang. PPL went on to successfully re-establish itself as a major rig builder. In 2001, Sembcorp Marine acquired a 50% stake in PPL, a move which kick-started its own rig building ambitions. This was followed by a further acquisition of 35% in 2003 resulting in PPL becoming an 85%-owned subsidiary of Sembcorp Marine. The remaining 15% in PPL was subsequently injected into Baker Tech in 2007 and then resold to QD Asia Pacific 3 years later. Benety Chang stepped down from PPL in 2012, 2 years after the completion of the latter sale.

3. Its controlling shareholder has also shown to be very minority friendly

A common grouse amongst investors is that controlling shareholders of listed companies often tend to list or inject their assets into listed companies when the equity markets and valuations are favourable to them or privatise these companies when valuations are down, often at the expense of minority shareholders. In the case of Baker Tech, its controlling shareholder has often done the opposite.

Since taking control of Baker Tech in 2000, Benety Chang has attempted to inject companies and assets he controlled on 3 separate occasions at seemingly bargain prices, creating substantial value for minority shareholders in the process.

The first was in 2001 when he tried to inject PPL into Baker Tech for S$27.2 million in a proposed all-share transaction. The consideration was at a discount of 43% to the adjusted proforma consolidated NTA of PPL of S$47.3 million. However, the Baker Tech board rejected the deal on account of the financial risks involved in the capital-intensive rig building business. Barely a month after Baker Tech announced the termination of the transaction, Sembcorp Marine acquired 50% of PPL for S$16.0 million in cash.

Then in 2007, having sold 85% of PPL to Sembcorp in previous years, Benety Chang again tried to inject the remaining 15% into Baker Tech via the sale of holding company PPL Holdings. The consideration was for a relatively paltry S$3.6 million in cash paid in instalments over 18 months despite PPL shipyard generating a profit after tax of US$30.3 million (S$45.8 million) [2] in FY2006. In other words, the consideration was a mere 0.5 times the trailing profit after tax attributed to the 15% stake. The same stake was eventually sold to QD Asia Pacific for US$116.3 million (S$144.2 million) [2] in 2010 or 40 times its original acquisition price just 3 years later. This does not include the dividends received from PPL during the holding period which had reached S$22 million by end of FY2009.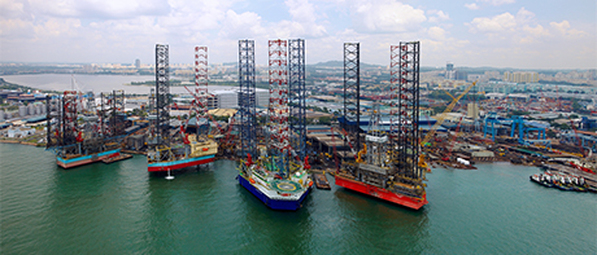 PPL Shipyard

Finally in 2008, Baker Tech acquired Sea Deep Shipyard from the investment vehicle controlled by Benety Chang, Saberon Investments. The consideration was once again at a relatively cheap S$20.0 million considering that Sea Deep registered a profit after tax of S$11.8 million in FY2007. In the remaining 8-month period that followed till the end of FY2008 and for the whole of FY2009, Sea Deep contributed S$19.4 million and S$42.8 million respectively to Baker Tech's profit before tax, returning more than 2.5x the original investment amount in a short 20 months, even after applying its average corporate tax rate of about 17% for the period.

4. It has distributed more dividends back in the last 4 years combined than its current market capitalisation

When it comes to actually doling out the cash, Baker Tech has also proven to be no slouch. For the period of FY2012 to FY2015, dividends paid and declared totaled about S$148 million. This includes FY2012 and FY2013, when the company distributed S$132 million in total to shareholders, funded partially by proceeds from disposals of York Transport, PPL as well as Discovery Offshore. It has also paid no less than 2.5 S cts per share in dividends (adjusted for the 5 to 1 share consolidation in 2016) since FY 2008. By comparison, the company's shares currently trade at just S$0.555 for a market capitalisation of S$112.6 million.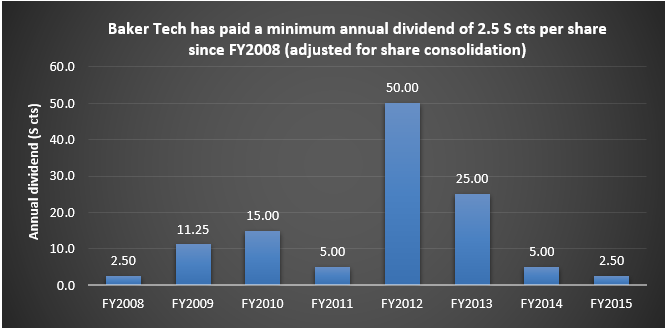 5. It is trading at close to its net cash value per share

Being in the oil and gas services industry, Baker Tech has not been spared the negative sentiments permeating from Swiber's initial winding-up announcement after market closed on 27 July 2016. Over the next 7 trading days that followed, Baker Tech's share price plunged 14%. Although other oil and gas services counters such as Ezra (-23%), Ezion (-12%) and Swissco (-25%) experienced similar sharp declines, Baker Tech stands out as it has a much stronger balance sheet. While the aforementioned oil and gas services companies all sported high gearing levels, not only is Baker Tech debt free but it also has a cash pile of S$113.2 million in addition to another S$7.8 million in corporate bond holdings. This gives it a net cash backing of S$0.558 per share, slightly higher than its last traded price of S$0.555. Adding the corporate bond holdings will give it a mostly liquid asset backing of almost S$0.596 or a 7% premium over its current share price.

On the flip side, some of this cash would likely be drawn down over the next 2 quarters as Baker Tech continues construction of its liftboat. However, with the board of directors guiding in its FY2015 annual report for completion in the 2nd half of 2016, a large chunk of the liftboat construction already recognised [3] and trade payables and receivables finely balanced, the negative cashflow impact could be somewhat contained.

Our Take

Operating in the oil and gas services sector will provide plenty of challenges for Baker Tech in the near to mid-term particularly with the dearth of newbuild rig orders and depressed oil prices yet to show any kind of sustained recovery momentum. However, with a rig building pioneer charting its future course and an extremely strong balance sheet at hand, Baker Tech appears to have a much better chance than its peers at surviving and emerging from the current downturn.

(Article first posted on 10 Aug 16)


---
[1] Energy Perspectives on Singapore and the Region, Institute of South East Asian Studies
[2] Based on prevailing exchange rates used by the company
[3] S$47.1 million of the liftboat construction had been recognised as work in progress as at 31 December 2015 and a further S$18.2 million increase in inventories/works in progress presumably largely attributed to the liftboat