Since our last
update
in which we pointed out the strong possibility of TSH monetising all its assets and distributing the resultant proceeds in the mid to near future, the Company has successfully completed the disposals of most of its key assets in the space of 3 months.
Cash company sitting on cash hoard even before proposed Unilink sale
Having sold its main operating units, TSH is now a cash company as defined by Rule 1017 of the SGX Catalist rules. It currently sits on a cash hoard estimated at S$32.69 million, 90% of which will be held in an escrow account, according to its latest announcement as at 31 Aug 16. TSH will now have 12 months (with an additional extension of 6 months subject to SGX approval) to look for a new operating business which meets SGX's listing requirements or be delisted, a scenario which should result in a distribution of all its cash. It should also be noted that under the Catalist rules, money in the escrow account can only be used for distributions to shareholders or to pay for expenses incurred in a reverse takeover. This should accord shareholders some assurance that the bulk of the cash will be safe and not be used to pay for ongoing corporate expenses such as directors' fees.
The reported cash position translates to a per share cash value of S$0.136 but does not include proceeds from the yet to be sold 26.5% stake in Unilink Development Limited. While we had previously flagged out that the realisable value of the Unilink stake could be much lower than book if pegged to the recent Metronic transaction, TSH's management appears to think otherwise as it only adjusted the carrying value slightly downwards to S$2.98 million. A successful sale of this stake close to this price should boost its net cash per share to S$0.148 as the company has already repaid all its debts.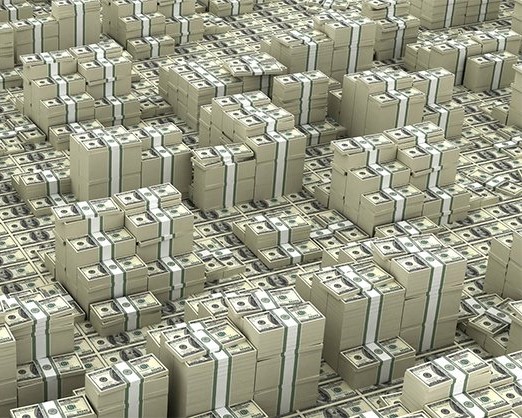 But net liquidation value slightly lower than previously estimated
Using the management's value estimation of the Unilink stake and including all residual assets and liabilities currently on its books, the net liquidation value of TSH works out to be about S$0.145 per share[1]. Should the more conservative sale price of Unilink be applied i.e. pegged to Metronic transaction, the net liquidation value is estimated to be S$0.137 instead. Both figures are slightly lower than our previous estimate of S$0.151 per share with the main difference being the slightly lower than expected sale price of the freehold property at Burn Road as well as forex losses and other expenses incurred in 1H2016.
Payout of at least S$0.025 per share expected soon
The Company has already announced previously its intention to distribute 100% of the net proceeds from the sale of Explomo and Wow totalling S$6 million to its shareholders via a capital reduction. This translates into a payout of S$0.025 per share. With no operating business and a cash hoard likely in excess of what is required in a typical reverse takeover, we will not be surprised if the Company decides to dish out further cash distributions in the coming months or bump up the next distribution to include part of the proceeds from the property disposal.
Recommendations
TSH has turned in an impressive performance since our
initial report
on 31 March 2016 with total returns of 99% over the 5 month period. As with the situation with all cash companies, further upside will depend very much on what and when Company decides to do with the cash pile over the next 12 months. Going forward, we think the share price should be supported by the current net cash per share of S$0.136 until further developments in the sale of Unilink or a new business acquisition is announced. While a potential acquisition could provide a further boost, we see a distribution of substantially all its cash holdings as the more viable and sensible option under existing market conditions. This means that shareholders should realise the estimated net breakup value of between S$0.137 to S$0.145 per share over the next 12 months or so, an upside of between 8% to 14% over the last traded price of S$0.127.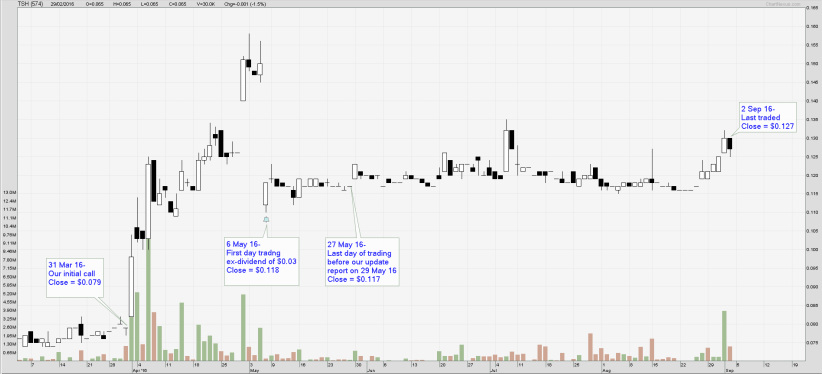 Key Risks

The major risk going forward is of the Company squandering its cash hoard in a value destroying acquisition. However, with 3 of the 4 board members (Teo Kok Woon-28.4%, Anthony Lye-16.6%, John Wong-3.2%) owning collectively more than 48% of the Company's shares, we believe the interests between management and minority shareholders are sufficiently aligned in this case to mitigate this risk.
---
[1] We have assumed that the Hibiscus Petroleum Berhad shares that the Company owns have been sold and proceeds form part of the cash hoard of S$32.69 million. Should this not be the case, then the eventual net cash estimate would be higher than reported post Hibiscus disposal.